Fall Tourney Dates & Hosts
Fall 2019
Tournament FYI's for Coaches & Teams
Click HERE for pdf version of field layout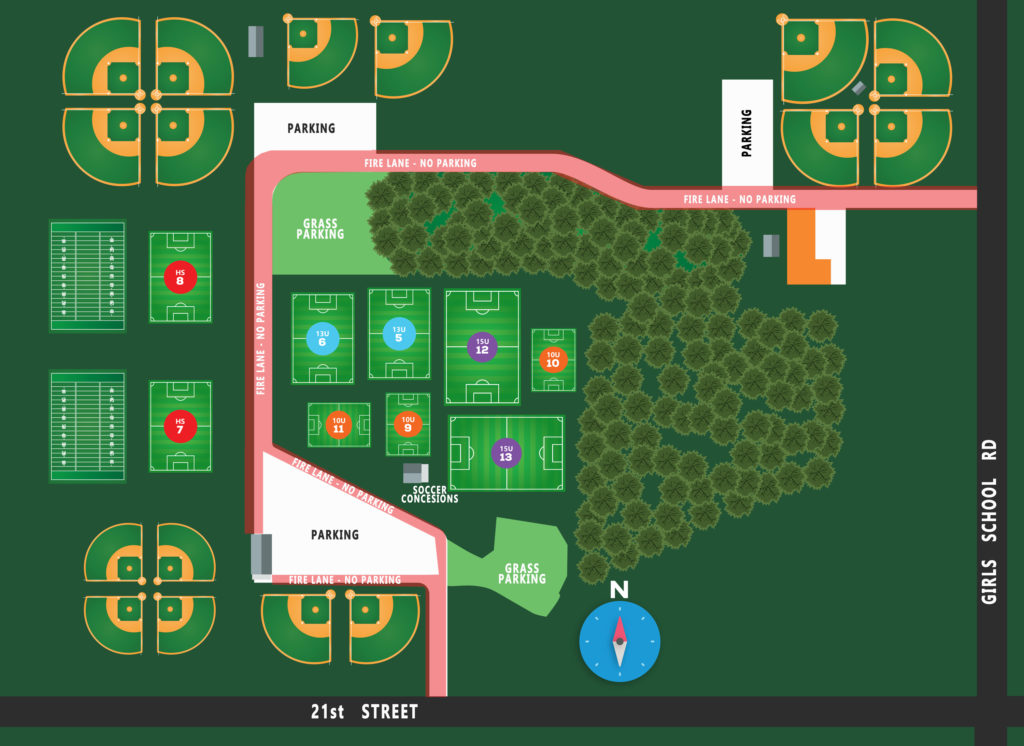 High School Division
Dates:  Saturday, October 26 – Sunday October 27
Hosts:   Ben Davis Soccer Club
Tourney Check-in Dates are Wednesday, October 23 and Thursday, October 24, at the Ben Davis soccer fields at the Concession Stand; 6-7:30 PM each night
Brackets:  19U-HS Fall 2019 Brackets – Final
15U Division
Dates:  Saturday, October 26 – Sunday October 27
Hosts:   Ben Davis Soccer Club
Tourney Check-in Dates are Wednesday, October 23 and Thursday, October 24, at the Ben Davis soccer fields at the Concession Stand.; 6-7:30 PM each night
Brackets:  15U Fall 2019 Brackets – Final
13U Division
Dates:  Saturday, October 26 – Sunday October 27
Hosts:   Ben Davis Soccer Club
Tourney Check-in Dates are Wednesday, October 23 and Thursday, October 24, at the Ben Davis soccer fields at the Concession Stand.; 6-7:30 PM each night
Brackets:  
Red Division:  13U Red Fall 2019 Brackets – Final
Includes Ben Davis Elite, Danville Independence, Danville Republic, Danville Steel, MC Maddogs, MC Maniacs, MC Minions, SYS Swat, TWYSC Fire, WSU Hurricanes, and WSU Twisters.
Green Division:  13U Green Fall 2019 Brackets – Final
Includes Beech Grove Indy Futbol, Ben Davis Power, CYSC Comets, MC United Blue, USAI Hendricks Timbers, USAI Pike Glory, USAI Pike Stripes, SYS Hurricanes, and WSU Storm.
11U Jamboree
FYI:  No Check-in required for the 10U Jamboree
Host:  Ben Davis Soccer Club
Saturday, October 26, beginning no earlier than 12 PM.
Jamboree Schedule:  11U Jamboree – Final (10/18/19)
Each team will have at least three games.  Each game will consist of two 15 minute halves with no more than two games in a row.